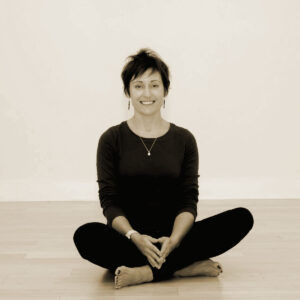 Regina Dixon
 I am the proud mom of two teenagers, Ella and Leo.  I enjoy watching them grow and experience life. I have held different job titles in my adult life, but none more wonderful than mother and now yoga teacher.  I enjoy connecting with students and developing my own practice, I am most proud of the fact that I have been able to share my love of yoga with my daughter and friends who have developed their own appreciation for the changes yoga can make in your life.  It is my hope that you are inspired as well.
What I love  Yoga, walking my dog, hanging with family and friends, performing in plays when I get the chance.
Why power yoga   It is my way of restoring balance to my life. I love the flow of the power yoga sequence and finding new ways to approach my practice every time I step onto the mat. .
Home.   I grew up in Westford, Massachusetts, met my husband after returning home from a brief stint in Florida, then moved to Bedford, NH, where I have lived for the last 13 years.
Favorite word.   Harmony
What inspires me  I am inspired by the students that come to Sol Power Yoga. I am inspired by the teachers who offer me something new to think about every time I take a class. I am inspired by the practice of yoga and how each time I practice it is different and unique. 
Training  Sol Power Yoga Teacher Training, RYT-200