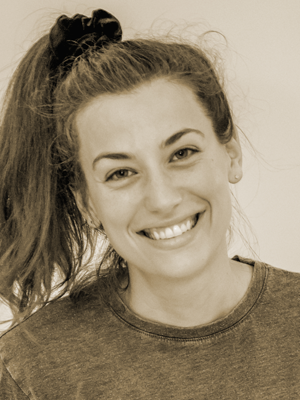 Ariana Pinette
I discovered yoga in college and found it helped me develop confidence, peace of mind, and a consistent practice I could rely on when everything else was changing. Not only did yoga help me embody greater emotional and physical strength, it also became a refuge, teaching self-acceptance, gratitude and service. After finding the yoga practice and community to be a source of empowerment in my own life, I was inspired to complete teacher training so I could share the practice with others.
What I love Spending time with family and friends, sitting by the fire with a book, drawing, walking by the ocean, sunsets, running, cafés and coffee, yoga and community.
Why power yoga I like the intensity of power yoga – it brings me to the edge – and going through a practice that includes heat and exertion helps me feel transformed in body and mind.
Home I grew up in Southern New Hampshire, and after living in a number of places, have returned home.
Favorite word Wonder
What inspires me Kindness
Training 3 Bridges Yoga, RYT 200; Veterans Yoga Project, Mindfulness Resilience Training, with Brianna Renner; Workshop with Coeli Marsh; Boston Yoga School 500-hour with Ame Wren and Daniel Max